PUBG Mobile has taken over our lives.
Everywhere you go, you come across a person or two, locked up in their rooms and when you ask them the reason it is always "PUBG Mobile".
It is a worldwide game exclusively designed by the official Playerunknown's Battlegrounds for mobiles.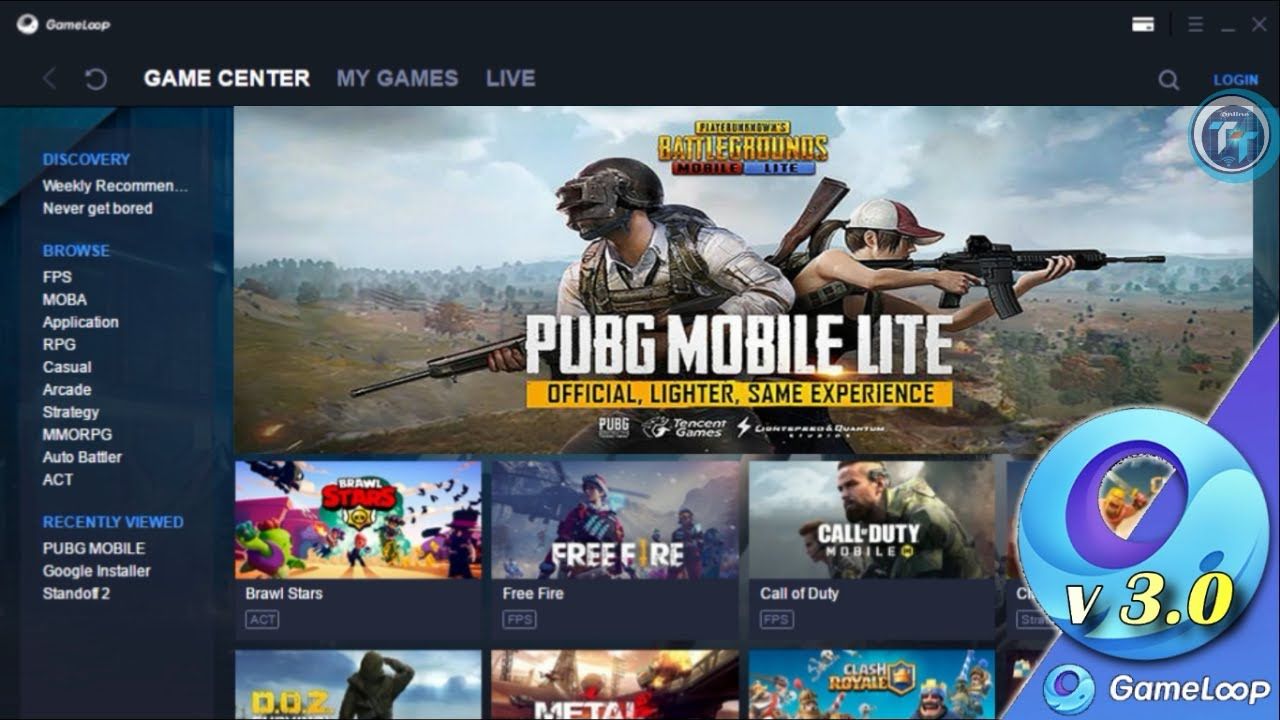 Tencent is yet another name that is circling the globe. It is known as the mother of PUBG Mobile as it gave birth to it. PUBG Mobile is specially designed by Tencent gaming, and that is the most compelling reason for you to conveniently play it on your big screens with none other than Gameloop.
Honestly, the addiction to Tencent games is pretty intense for our young generation today. Not just individually, this masterpiece is ruling the YouTube world with its breathtaking live streams. Streamers are organizing tournaments for different teams to join from all over the world and win exclusive grand prizes.
Every day, YouTube is streaming thousands of live matches that go on for hours and hours long. Obviously, as this game has hit such massive success all over the world, people are more than anxious to get into the thrill of this battleground and test their talents.
Anything they can get their hands on, whether it is their mobiles, Mac, PC, or iPhones they are willing to grab and play.
However, it is not very appealing to play PUBG Mobile and more of Tencent games on just your mobile phones. Games developed by Tencent are quite heavy for our poor mobile phones to run consistently. As per my experience, your mobile would start to heat up after just a game or two, and constant lag will, for sure annoy you to a great extent.
Not to forget how fast it chews your battery. It's like you start playing at 100% and by the end of the two games, you are directly below 50%.
That is the most frustrating factor for me. Because of these certain issues, the gaming and technological world has come up with an incredible solution for gamers.
It's the launch of GameLoop.
What is GameLoop?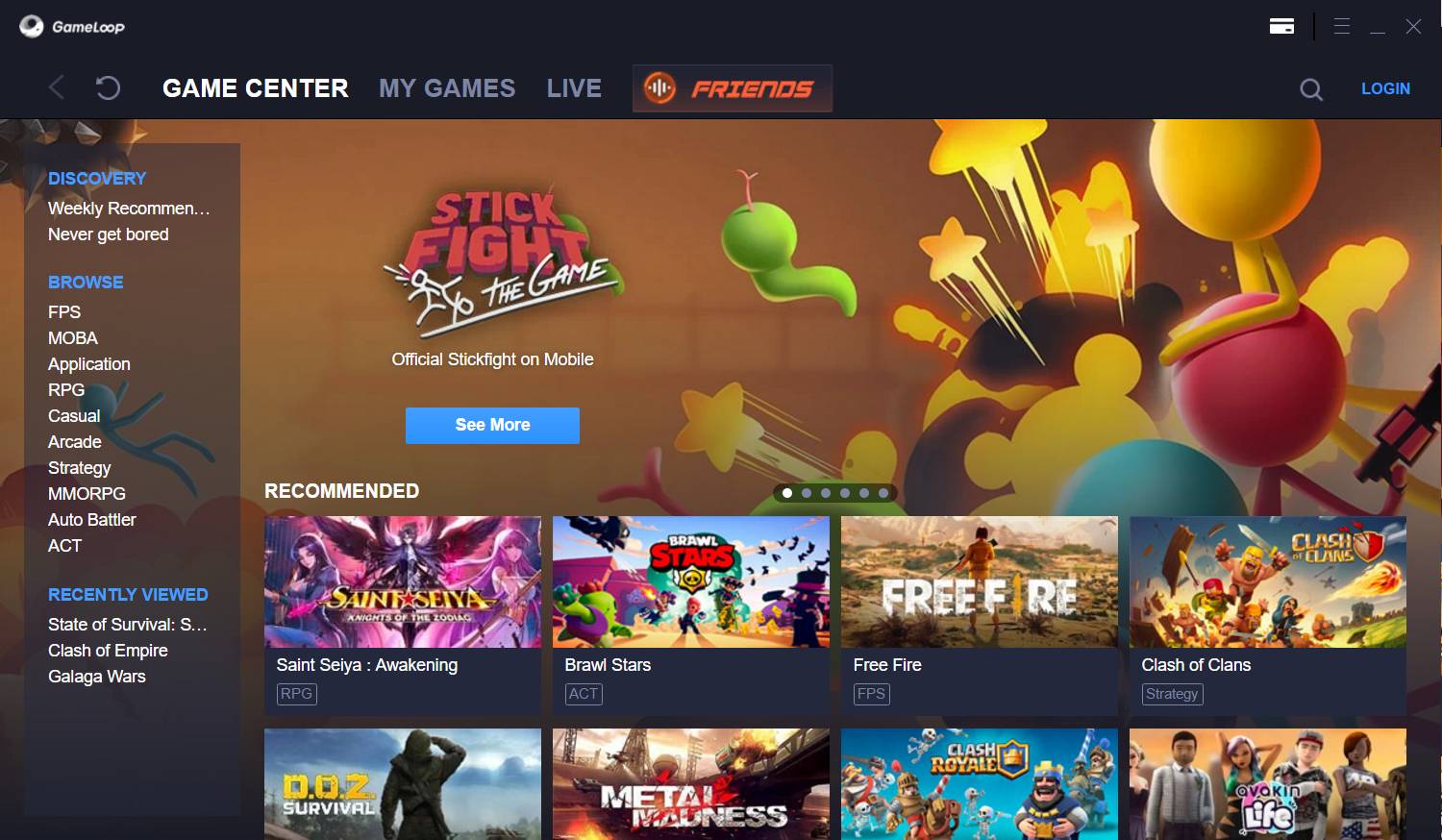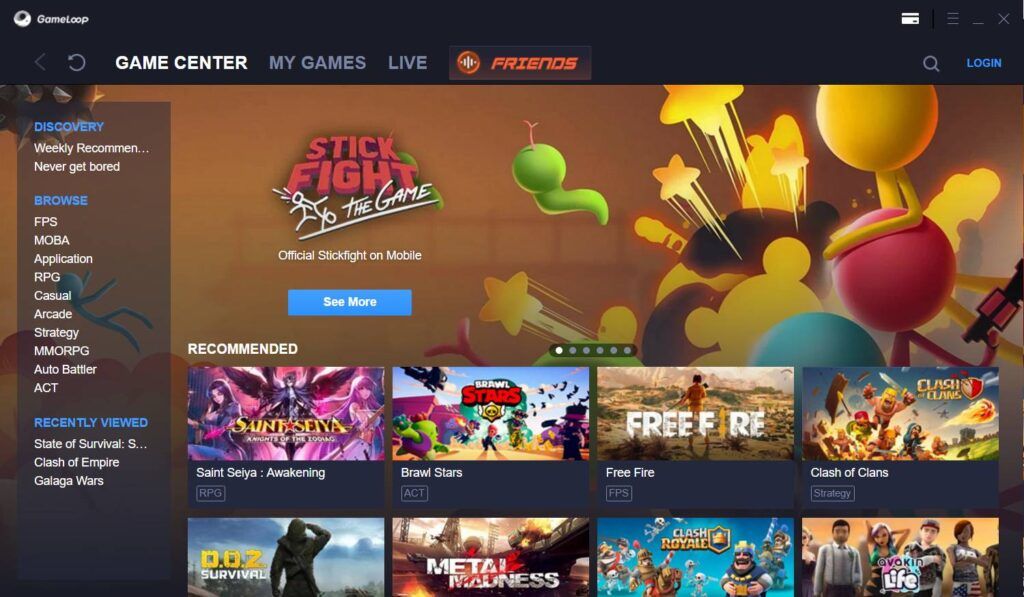 Keeping in mind our eager gamers, Tencent finally launched this remarkable emulator named Gameloop in 2018.
Ever since its birth, it has spread like wildfire enveloping every area of the word. Today, it has hit more than 450 million installs globally. In just a short time, this masterpiece has made a special place in the hearts of its dedicated players.
It is an upgraded brand of Tencent Gaming buddy, and it primarily entered the market as the Official Android Emulator of PUBG Mobile. However, as the gaming society, today enhances, the users started to demand the emulator to feature other fun Android games.
With the increasing demands from its users, the Gameloop, at last, launched around 200 more Android games for its clients in 2019. Among this list of incredible games, the famous Call of Duty made its place as well.
It became a turning point for Tencent Gaming Buddy as it upgraded to Gameloop as a mobile gaming platform on PC.
Its extensive reach didn't stop here; since it has been launched, it has offered its service to more than 450 million gamers, over 240 countries, and around 45 million monthly players downloading and playing amazing new games every day.
Hence, take part in adrenaline-filled battlegrounds on your big screen with none other than Gameloop.
For you to enjoy the thrill of most loved games on your big screen, Gameloop is the best Android emulator as it is dedicated to providing its users with phenomenal performance and thrill.
Get in the ride with this exceptional Android emulator.
Notable Features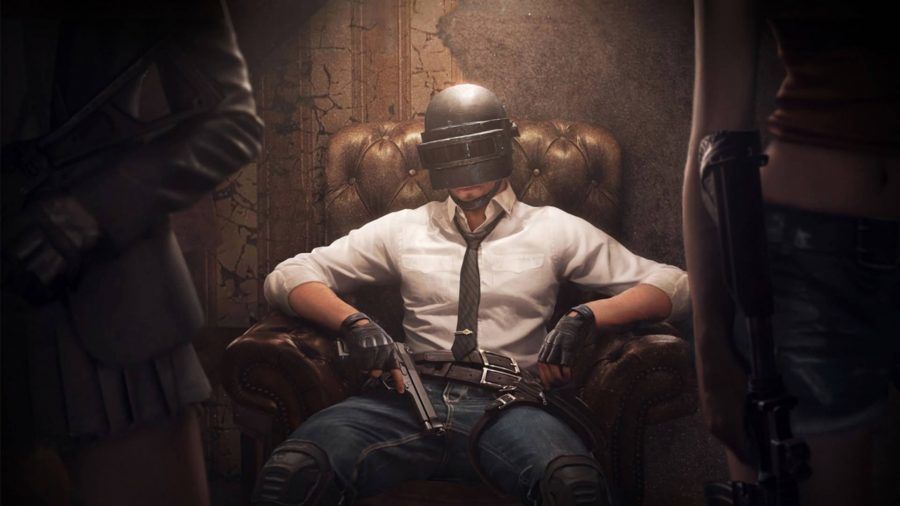 If you want to get into the battleground of PUBG Mobile, Call of Duty and thrilling adventure of other adrenaline-filled games than Gameloop is your best choice.
Bringing you some extraordinary features for your assistance.
Vast Compatibility
Even though it is exclusively designed for Tencent recognized games Like PUBG, it offers broad compatibility with a wide range of incredible Android games. With this empowering emulator, you can now play popular and most loved Android games conveniently on your big screens.
No need to just rely on your mobiles.
Optimized Controls
For a gamer, smooth gameplay and convenient control are among the major priorities. Gameloop itself offers you very convenient and easy to use controls. I am sure you will not face any problem in regard to the control as they are set in according to the majority of gamers' preference.
However, every player has his own way of playing. For instance, certain players would prefer two fingers game and others prefers 3 or 4 fingers.
Just for the comfort of its users, the Gameloop emulator allows you the relief to optimize your controls and setting as per your preference. You may now customize your controls in just the way you like and enjoy the better and smooth gameplay.
All you need to do is run into the default settings and tweak controls just the way you want.
So, escape reality and play unlimited games.
Eye-Catching Graphics
Gameloop offers you eye-catching graphics and stunning sceneries for gamers to get the thrill of gaming. Playing exciting games on a grand screen with beautiful graphics makes it more appealing and fascinating than to play in your small screens.
It provides its users with the maximum benefit it could and brings out for you 2k resolution and 3A masterpiece graphics so you can now enjoy your favorite video games. With its incredible graphics players are more likely to view their characters better, to hear the sound of enemies even from a far distance, and to obtain a detailed and clearer map design and gun specifications.
Play to win, but enjoy the fun along.
Library of Games
Though specifically destined for Tencent, it brings for its users a massive catalog of games for them to choose from. It comes with an integrated game browser for you to display a number of fun games. All you have got to do is click the browser, search for the game you like and download it.
Now you don't have to rely on one game forever when you can scrim through the library and pick up a more thrilling one. It's definitely heaven for gamers.
Hot games it offers:
PUBG Mobile
Call of Duty
Free Fire
FIFA 20
Fortnite
Hero Wars
Minecraft
Pokémon Go
None of these games are new to players; they are ruling the world already.
Hence, keep calm and let the games begin.
Network Acceleration
Imagine the moment when you are seconds away from shooting the enemy but instead, you die because of the annoying lag. I am sure many of you mobile players know how that sounds, frustrating.
Gameloop makes every possible effort to save you the aggression of lag and provide you with smooth and steady gameplay. It has its network optimized and uses your PC's capabilities to ensure that you have easy lag-free performance.
This isn't all.
With the upgraded version of this emulator, Gameloop and Tencent introduce you to a new feature called "Network acceleration". With this unique property, you can improve your performance and play even with a high ping.
Living in different regions will surely result in internet problems and high ping. Due to high ping, your game would lag extremely. You can now free yourself from this cage of the problem and give your best performance with the Gameloop emulator.
Requirements
When it comes to requirements, it doesn't ask much from you.
Simple and average RAM and processor would do.
To install Gameloop and for it to run smoothly on your PCs, all you need is a few features such as:
Minimum of at least2 GB RAM however for its better performance and speed it is preferred for your RAM to be at least 4 GB as some games have high storage and equipment requirements.
Furthermore, it demands a minimum hard-disk of at least 1.5 GB and a good Intel of AMD processor of i5 or higher.
If you are downloading Gameloop on your PC, then for windows it requires OS versions 7 and above.
There is nothing to worry of, all these conditions are very easily fulfilled and once you do then the installation is a piece of cake.
Gameloop is always looking out for its users.
Gameloop for Windows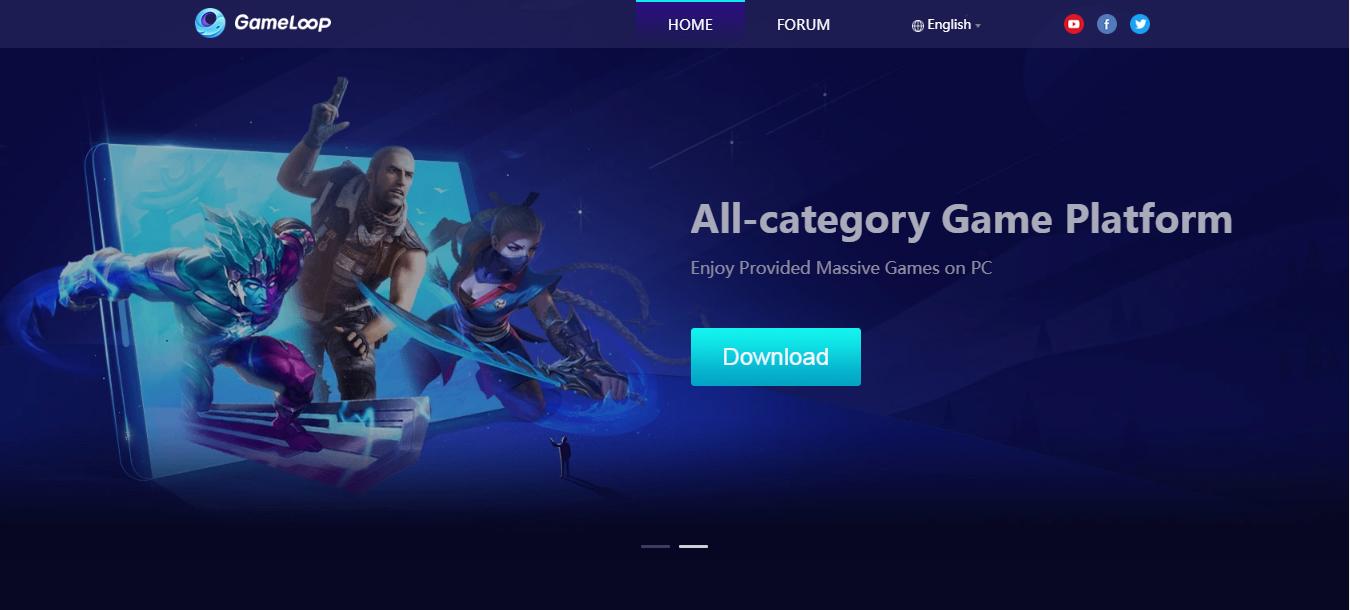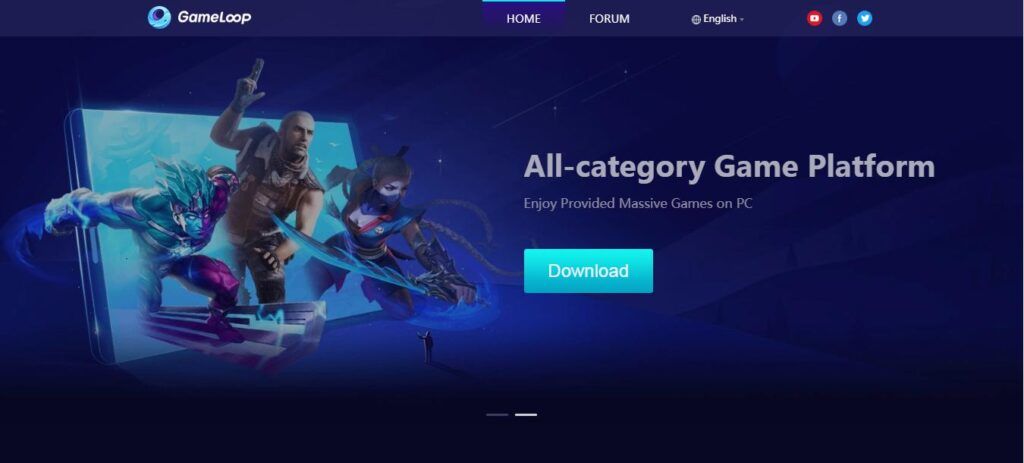 Wanting to play your loved Android games on your PC with Gameloop is a decision you will never regret.
Gameloop for Windows offers you plenty of new and exciting features, stunning graphics, customizable controls all for your better performance, and smooth gameplay.
By installing this next level emulator on your PCs or laptops, you can not only enjoy the Android games on your big screen, but you can also reproduce them in a way that extensively outperforms the capabilities of modern mobile hardware and game performance.
PC's rendering hardware and Windows vast amount of storage will not only influence great gameplay but will help you achieve your best performances that might be impossible on your mobile screens.
The latest version of the Gameloop Android emulator is also available for PCs.
Moreover, to install Gameloop on your PC, you need at least Windows 7/ 7 64, Windows 8/8 64, Windows 10/ 10 64.
On these mentioned versions of Windows, Gameloop is easily available.
Gameloop for Mac
No doubt that this incredible emulator has been running worldwide breaking through barriers but unfortunately there is no version yet for Apple's MAC OS (iMac or MacBook). It does not support Apple products.
But stay updated for the latest news.
Here are some of the alternatives you can try to play unlimited android games on you Mac for free:
How to Download Gameloop on your PCs?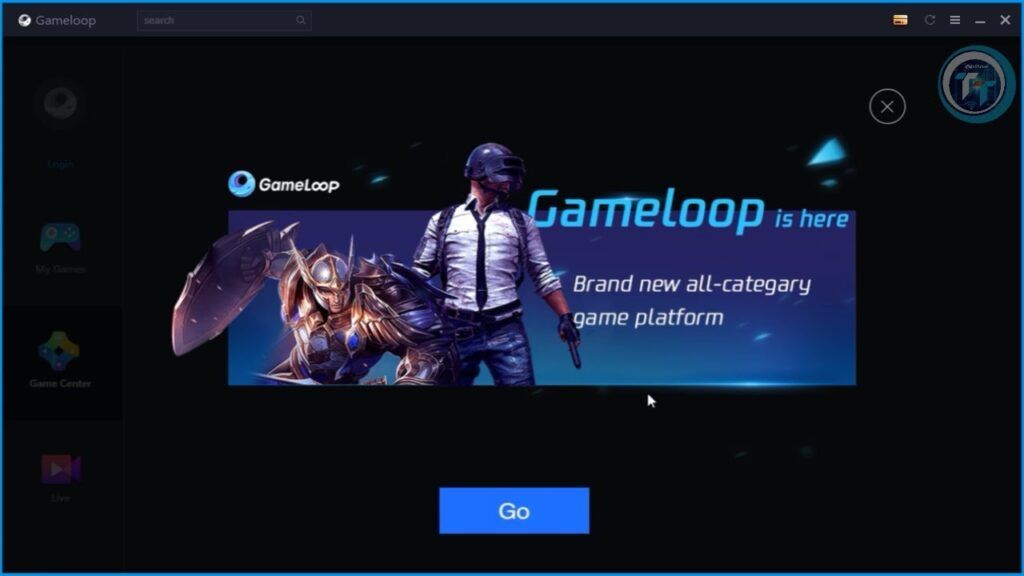 If you have met all the conditions and requirements for Gameloop, its installation process is nothing difficult. With proper guidance and instructions downloading Gameloop on your PC is a piece of cake.
Follow these few simple steps to download Gameloop on your PC for free.
Open the official website and click on the download option.
Once the file is downloaded, run the setup by click on "start".
Wait until it is successfully installed for further process.
After the installation process is completed, you need to sign in to your Google Account.
Once you type in the Google account, access to the play store will be given to you.
Search in the name of the gamer you want to play and simply download it.
Happy Gaming.
APK Method
The alternative to the original process, to install Gameloop Apk is also very convenient for its users. All you need to do is open the Gameloop Android emulator and press on the F9 key on your keyboard.
It will display a browser for you, install ES File Explorer APK. Hop into the file and search the APK of the game you would want to download. Once you find it, hit install and wait patiently.
How to Use Gameloop?
Now that you have successfully launched the emulator on your PC and are anxious to play your favorite games on a big screen, the next important factor is to know how it works?
To use Gameloop is no less different than to use other emulators or your Google Playstore. Once it resides on your desktop, the treasure is opened. All you need to do is open the application. It will display several options on your right labeled as "Setting", "lobby" etc. An Icon of Google Playstore will appear to you as well.
As soon as you run into your Google Playstore, repeat the same process as in your mobiles. Search the name of the game and click install.
You can also customize the controls by moving into the "Default setting" for your better experience.
Language in Gameloop
When you download Gameloop, its features sometimes appear in three different languages; English, Chinese, and Vietnamese but no need to worry.
With clear directions and proper instructions, you can change the language with no trouble.
On the right-hand corner (top) of the Gameloop interface lays the icon named "Settings".
Click on to it and scroll down to "Language and Input".
Open the option reading language and change it to your preference.
Once done, click okay and enjoy gaming in a language you understand.
Game Performance
Any gamer seeks an excellent gaming performance when he contemplates on different emulators.
With Gameloop, you can now enjoy the exceptional gameplay without any lag or crashes. There is no better option for you than to choose Gameloop for your best performance.
Under the name of "Game center," you may download various games like Clash of Clans, Call of duty, PUBG mobile, and Clash Royale, etc. However, some of the Tencent games come preinstalled along with your emulator. In such a case, you might want to reinstall them to optimize frames per second (FPS) while playing.
In general, Gameloop will provide you with incredible features and amazing gameplay.
However, the graphics will depend on your PC's configuration, the higher its capabilities are the better graphics it will display. If your computer is from medium to high end, then you will not face any problem while gaming in HD graphics.
On the other hand, if your PC is low-profile or windows are old, then there are some settings required from you. There are options like "smooth" and "Balanced" for you to stabilize your game performance for a thrilling gaming experience.
Gameloop will provide you with maximum benefits.
How to Update the Latest Version of the Game?
To update a game to its latest version is a piece of cake with the GameLoop. There is nothing complicated, just simple steps to follow through.
Here is how you do it;
Open GameLoop.
Click on the option "My Games" on top of the GameLoop interfere.
Select the game to be updated.
Press on "update" and wait for the process to be completed.
Start the game again once it is done.
Is Gameloop Safe?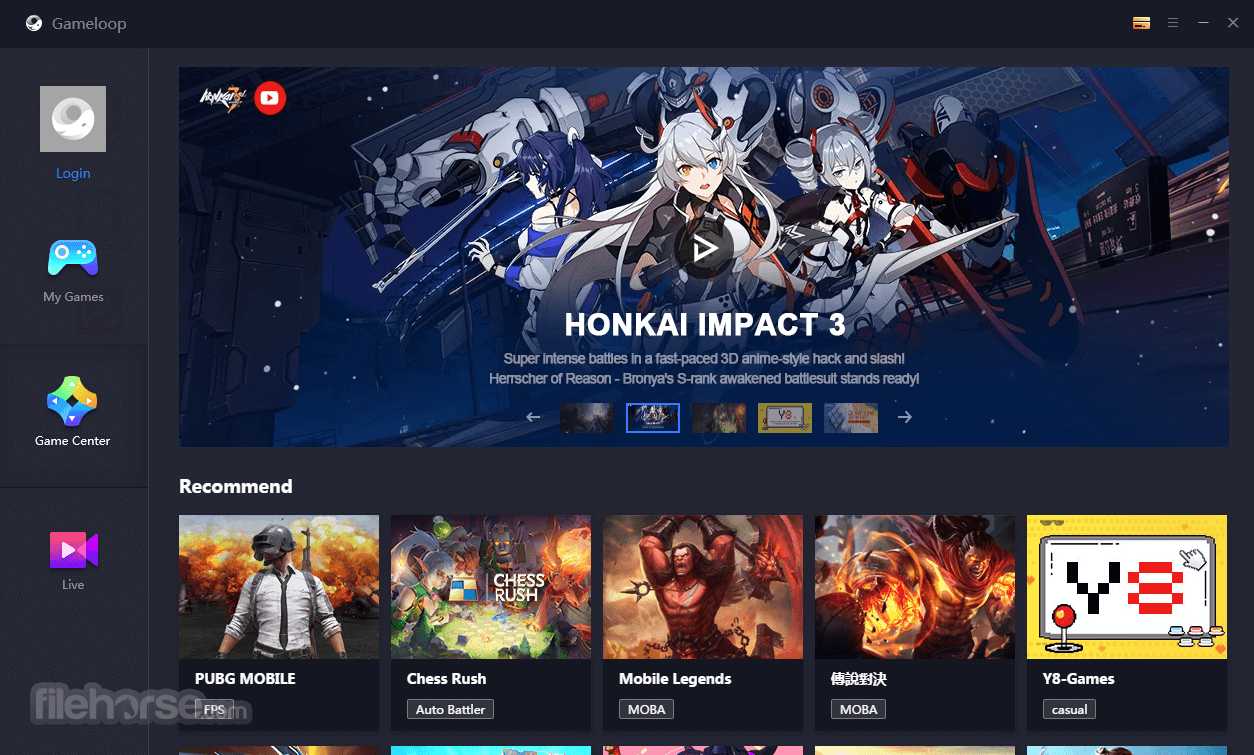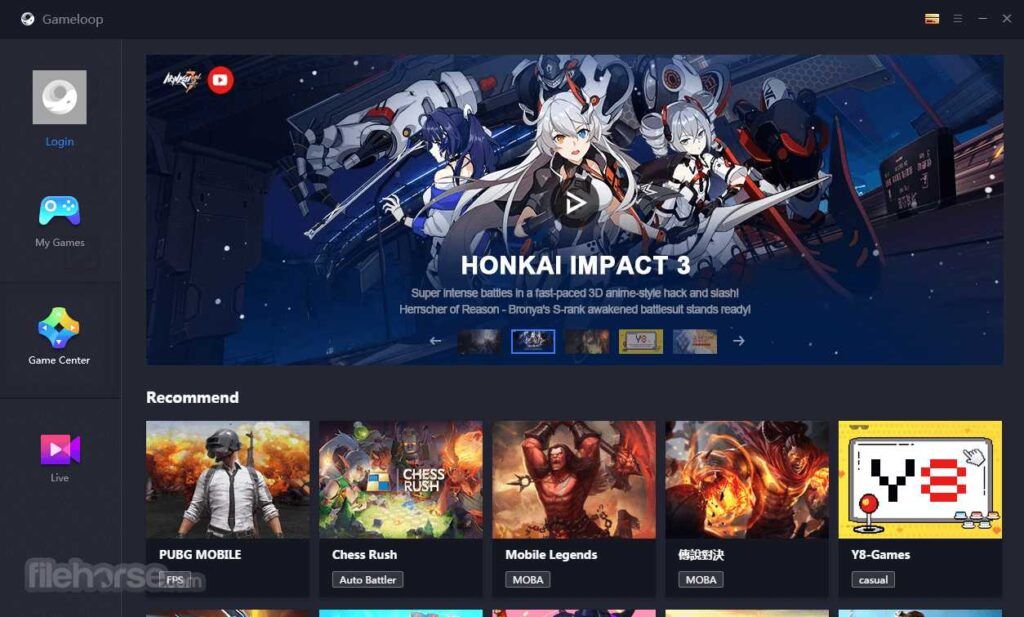 The concern of privacy and security is still the major apprehension, you should always be cautious of viruses and malware while downloading any sort of software and emulator. While there are a vast number of people installing this next generation emulator, the question of safety still remains number one.
Is Gameloop safe to use?
Is it free of viruses?
Will Gameloop hack my data?
A lot of users have assured regarding the safety issue of Gameloop, and it has been a very positive response. This emulator is completely safe to use. There is little to no privacy concern you will face when downloading this emulator.
Though it demands access to your private information but no need to worry, it takes full responsibility to secure your privacy and integrity. They have information security and access policies that limit access to their systems and technology. Furthermore, they protect your data by using technological protection measures such as encryption.
So there is no need to worry about GameLoop hacking or stealing your data.
When it comes to concern about whether or not it releases viruses on your computer, the answer is simple. If you download the program from an authentic site such as its own official website, then there is no need for you to worry about viruses or malware eating your system.
Hence, enjoy secure and fun gaming with Gameloop.
Frequently Asked Questions
Even though Gameloop is very convenient to use, and it guides you along every small step, there are still some of the guidance people seek.
Here are some frequently asked questions that the majority of the users ask.
GameLoop can't install Google Installer?
To answer the question, yes there is a way to install Google installer in the Gameloop emulator.
All you have got to do is follow these steps:
Open GameLoop emulator
Go straight to "My games" on the menu
It will display the option 'Google installer". (If you can't see try restarting the system or updating the emulator)
Click on the option "download" and install it.
Once it is installed, you will need to reboot the emulator by giving access to the dialogue that will pop.
Press "F9" to display the app on Gameloop.
Sign in to your Google Account and enjoy the games you love.
How to clear cache in Gameloop?
Another important question that pops up in the FAQ is how to clear the cache. Follow us as we walk you through.
Open the GameLoop.
Select the preferred game from '"My games"
Click on the triple bar (三) symbol on the top side and choose "Clear Cache".
Press "ok" on the pop-up window and wait for it to complete.
Once it is done, restart the game.
This is pretty simple, right?
How to open settings on Gameloop?
To open settings on Gameloop, simply click on the three-bar symbol on the top right end of the main menu. Once you do that, four options will appear reading Update, Feedback, Settings, and Diagnosis. Click on the "Settings" option. It will show you Basic and Engine setting. You can alter them according to your choice.
Which is the current version of Gameloop?
Gameloop was last updated on 8/8/2020 to version 3.3, which is currently running in the world. This latest version is available for Windows 7, 8, and 10. It has a size of 11 MB and is in the English language. It is easily available on the official website for its installation.
Is Gameloop legit?
Gameloop emulator is definitely legit. If you download it from its official website, you will not face any problem regarding its authenticity and privacy concerns.
Is Gameloop PUBG unable to find Single Player?
Regarding the issue of PUBG, Gameloop guides you to update the game if any crashes, lag, or game-related issues result. You can follow the criteria mentioned above to update the game. If that doesn't help, you can try to reinstall the game.
It is also possible that you are unable to start match-making or find any players due to high ping. If your internet is unstable, it is possible that your game would result in crashes. There is an accelerate option on the top right corner of the main menu. Using that you can cut the ping to even half of its original and enjoy the better gameplay.
Hope it was helpful.
The Crux
If you are looking to play Android games on your big screen with better performance and stunning graphics than the Gameloop emulator is your best choice. With its remarkable features, you can now enjoy PUBG and all your loved games without any distractions.
Hence, take part in Adrenaline-fuelled battlegrounds with the next generation GameLoop Emulator.