Ever searched "Best Emulator to play android games" on Google and came across a long list of suggestions?
You will find Nox App Player among the tops.
The gaming world is definitely not slowing down. It's like a technological giant giving birth to smaller versions of itself. Who are we kidding? We are all addicted to games. Whether it is Candy Crush or PubG mobile, the thrill of games run in our veins ever since we were a child.
Even children nowadays are most anxious to grab mobiles from their parents. When you ask them the reason, their answer would be none other than "Games".
Whether it is racing games or fighting, role play, or intense fantasy-driven games, you name it, and the world out there is playing it like it's their utmost duty. Not to be criticizing them, gaming is always a fun way to kill time and boost up your cognition.
According to Psychological research, gaming is one of the major ways to increase your thinking and decision-making abilities.
Hence, never disturb a gamer!
However, playing video games on your small mobile screens for a long period of time could be quite tiring and harmful for your head. Sure you love gaming, but you wouldn't risk your eyesight now, will you?
Besides all the health issues like weak eyesight, bad posture, or constant annoying headache, gaming in your mobile could be quite frustrating. What if your mobile isn't good enough to download a heavy game like PubG mobile?
Your mobile processor could also fail to run your games smoothly, which could result in a lag. No gamers want that. I know you know how frustrating it feels, might as well throw your mobile on the wall. But really don't!
These few reasons are what compels a gamer to search "Best emulator for mobile games" on pc and sit there wondering which one to install. That's where Nox Android Emulator comes in.
Saving you the trouble, aren't we?
So, what is the Nox App Player?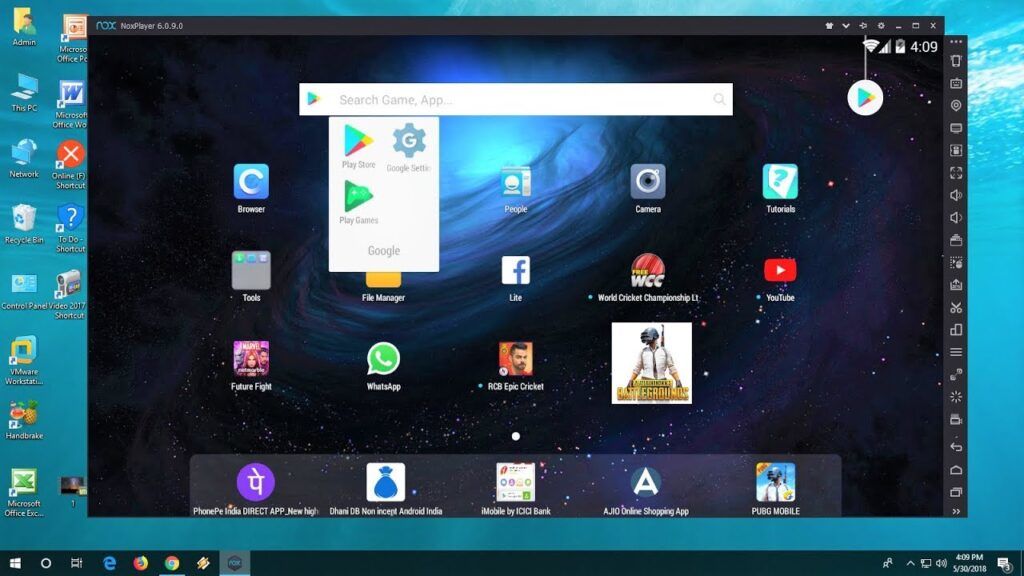 The world of the internet and Google will, for sure give a great number of emulators for you to try, but among them, the Nox app player is the one you need to choose. Why? You may ask!
This emulator is a fully optimized, stable, and smooth to let you play your favorite mobile games on PC without much trouble.
With this highly functional emulator, you will have better gameplay on your PC effortlessly. Nox App player is among the perfect android emulators, which was initially released on June 6, 2015, and ever since its birth, it has been growing extensively.
Just like a nuclear weapon, its products are spreading like radiations in the world. In just a small period, this masterpiece has over 150 million users in more than 150 different countries and 20 distinctive languages.
Amazing, isn't it?
Nox Android emulator is committed to providing its audience the best platform and digital solutions to connect them to Android, Windows, and Mac.
Another exceptional thing about this incredible emulator is that it just doesn't provide its user with the convenience of gaming, but with it, you can also watch movies for free. How great is that?
All you have got to do is install the Showbox Android app on your PC using Nox player and enjoy binge-watching.
Hence, gamers get ready to play your favorite Android games on your PC and Mac using none other than the Nox Android player.
Here's a list of all the fantastic features it has for you to download this perfect emulator.
Regular Updates
Nox player strives every other day to make it better and convenient for its users. One of the most appealing features of this is its regular updates. It seeks all the advantages for its users and keeps updating you with new and amazing features and systems.
It is updated every day to fix bugs so the players could show their best performance and enjoy smooth gameplay.
The more, the better!
Stability
Nothing is more infuriating for a gamer than constant lags and crashes during their gameplay. Here's a treat for you, no more lags. Nox Android emulator provides you with a system that is stable for you to run your applications without any inconvenience.
It is free of crashes and lags and provides you with great speed to enjoy your gaming, unlike others.
Say goodbye to lengthy loading.
That's a treat now, isn't it?
Catalog of Applications
Nox player provides a catalog of applications for you to download. It allows you to download all the latest Android applications on your PC without any mishap. All your applications and games run smoothly on this player. Now you can pick any app you want, no need to get bored over one.
Compatibility
Whether you have Windows PC or Mac, you don't have to worry. Nox player is compatible with both. It shows all its features and works smoothly on both.
No need to rely on only one!
Multiple Controls
The convenience of controls is among the most attractive factors for a gamer; not being able to be satisfied with controls is a big No. Nox player provides you with easy and simple controls to make your performance effortless. It also allows the use of options like Joystick or Keyboard so you could dive into the gaming experience without any problem.
With it, it's all easy.
Stunning Graphics
To view your characters on a big screen rather than your mini mobile screens is kind of thrilling. Nox Android player provides you with stunning graphics, with beautiful colors for you to enjoy the gaming experience.
It gives you options to choose between normal, HD, and more. This is one of the most attractive factors of this emulator that definitely catches our eyes and compels us to download this masterpiece.
Nox Player for Windows
Putting it in simple words, Nox App Player is highly compatible with Windows. Nox for PC is like a sun on a stormy day for gamers. It allows you to run the setup on various versions of Windows including Windows 10, Windows 7, Windows 8, and Windows 8, Windows Vista/XP.
Now you can enjoy the gaming fun and the entertainment of movies of all genres.
With Nox, now your fantasy, adventures, and thriller games will run better and smoother on your PC with brilliant HD pictures and clearer sounds.
No more playing your favorite games on your mobile screen when you can have double the amount of fun on your Windows with stunning graphics and outstanding performance.
Enjoy the adrenaline rush of your gaming experience on your Windows now!
Nox Emulator for Mac
Want to play Android games on your Mac?
Nox is your best option. It works seamlessly on Mac-based electronics including iMac and Mac books. There are hundreds and thousands of games on Android that you can now play on your Mac without any worry.
Nox for Mac is absolutely free to download and runs smoothly on the device; it allows you to play all your Android games and monitor different applications easily on your Mac.
As a Mac Os user, you must know how hard it is to play high-end games and enjoy the fun; therefore, you can always install Nox for Mac to never let the fun go by.
It is the best choice for games to play plenty of games on your Mac without any lag.
Here's how you can download for Mac.
What else do you need?
Nox Emulator Download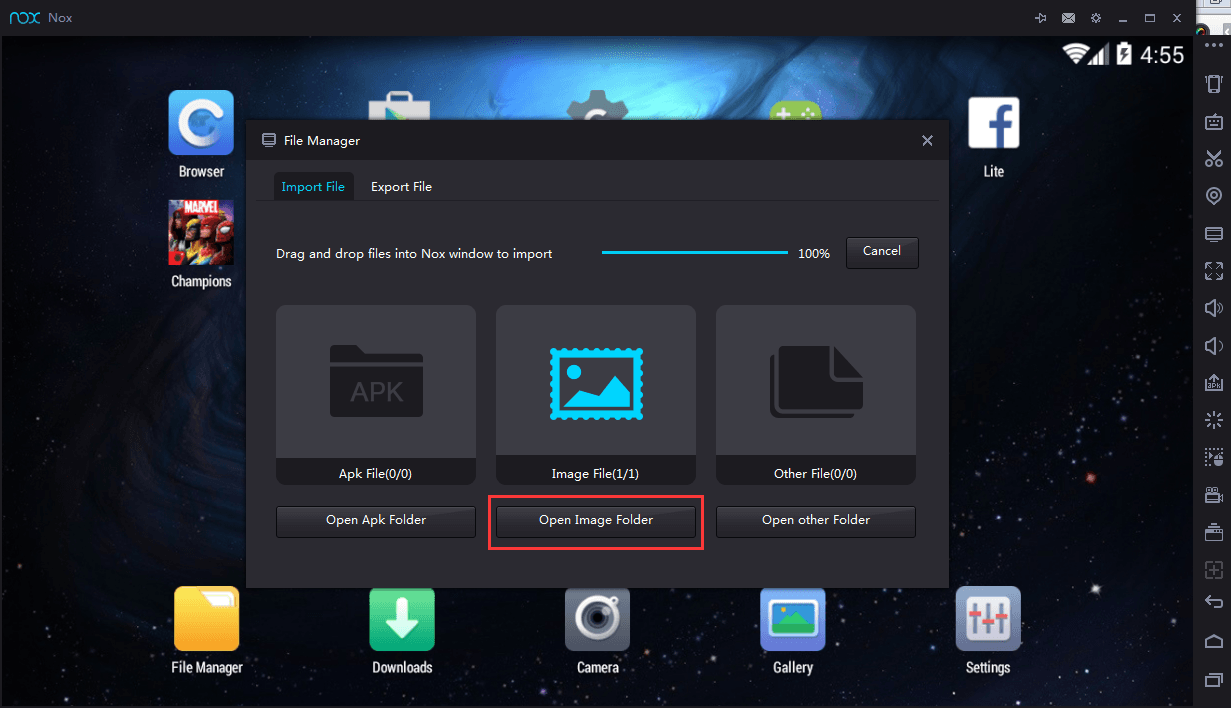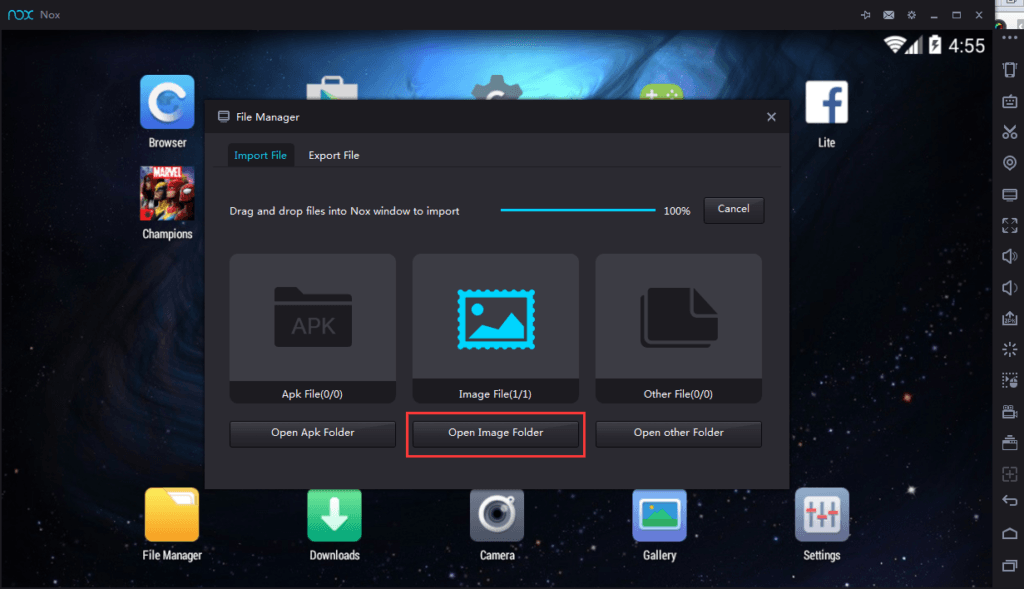 After you have successfully made up your mind to play mobile android games on your PC screen in HD with Nox Android emulator, the question of how to install the Nox emulator comes in mind.
Along with the convenience to run this setup, it is also completely free for its users to download.
To download this emulator, all you need to do is follow a few very simple steps mentioned below:
Go on to the official site and download the free Nox app player
Once the file is downloaded, click on it to start the installation process on your PC.
After successful installation, launch the emulator on your PC's main screen. Once you do that, the in-built Google App store will appear.
You need to click on the Google App store and sign in to your Google account to get access to unlimited Android games and applications on your PC.
From the long list of applications and games open the one you want to install and click download. It will take a minute or so for it to automatically be downloaded on your PC's.
An alternative to that you can also download the games with the APK method. If you have an APK file of the game on your PC, simply drag it and drop it in your Nox emulator setup. Click install and wait until the game is finally ready for you to play.
What if you want to play multiple games simultaneously?
One thing that makes emulators much better than your mobile phone is its unique feature of multiple instances. With this exceptional feature, you can play more than one mobile game on your PC at a time.
Just click on the multiple instance shortcut of Nox along with your original one and run the new game on it. Based on your PC performance, Windows, and processor, you can run multiple instances at a single time.
So, no need to rely on your limited mobile RAMS', poor processor, low storage capacity, or limited battery. Say goodbye to all the frustrations and enjoy unlimited gaming on your PC screens.
Nox Player Set-up: A Simple Process
The fun of the gaming world is just starting with the Nox phone emulator. I know you are anxious and excited to play all your favorite games on a big screen with stunning graphics, better controls, no lags, clearer sound, and speedy performance.
Once you have downloaded the emulator successfully on your PC or Mac (wherever you prefer), you need to run the set-up in order to enjoy the thrill of gaming and the fun of your favorite movies.
While it can take a while, but it is also very convenient and easy for you to start up the setup on your devices.
Every good thing takes a while now, but the extraordinary gameplay is worth the wait.
All you need to do is click on the "Run" button and wait for it to start. Once the setup is started, it will ask for your Google Account. You need to add it to play all the amazing games on your PC. Once it is completed, it will automatically install the application on your PC.
Enjoy Gaming!
How to Use Nox Android Emulator
Clash of Clans, Pubg Mobile, Call of Duty, Pokémon Go, Clash Royale, Candy Crush, GTA, Subway Sufferers, car racing, etc., I am sure you all are very much addicted to all these games. Whether you are a kid, teenager or young adult, people of all ages enjoy gaming.
You don't need expensive mobiles and gadgets to play these thrilling games. You can enjoy a fantastic gameplay on your PCs with Nox Emulator.
However, many people get confused about how to use a particular emulator. Nox for PC offers you a very convenient set up for its usage. It guides you along every step to make it convenient for its users so they could enjoy the maximum fun with this player.
Nox App Player is your best choice.
You don't have to worry about complicated controls or the complexity of its usage. There are only a few steps to follow in order for you to enjoy amazing gameplay on your big screens.
First thing first, you need to download the emulator by the method mentioned above.
After you have installed the program and run the setup, it will ask for your Google account.
Upon logging into your Google account, Google play store will appear on your Nox main menu. Click on it, type in the name of your desired application on the search bar and download your favorite game.
For your ease, there's an icon named "Tutorial" on the main menu. You can always open it to watch how it works if things are not clear for you.
There are also other fun options on the right side of your Nox player. You can click on them to customize your settings.
Location in Nox
It sometimes happens that after you have downloaded the Nox emulator and signed in to your account, it shows some location problem. When this happens no need to panic or uninstall the emulator. There's a solution to every problem.
Changing the location in the Nox Android emulator is quite easy and simple. There is nothing to stress over or bite your nail out of frustration. Simply jump into the "Settings" icon on the right side of your emulator. After you have clicked on the setting, it will show you numerous options, tap on the file named "Virtual Location".
A search bar would appear for you to search for your current location. Fill in your location and press "Geocode" afterwards. Click on the "Ok" button on the bottom right corner and wait patiently for it to make changes.
If your system crashes during the process, I suggest you restart the player.
For users with Windows 10, you need to turn off your windows 10 location. This is an additional step but does not worry, as Nox always works for your convenience, it is also pretty simple. Again head on to "setting" on the right side of your emulator, click on to privacy bar and move straight towards "Location" to turn it off. The setup will display an option named "Location for this device".
Set it to off.
Now, let's dive into the most anxious part, the gameplay!
Nox Game-Play
The most important thing for any gamer is the gameplay. They strive for excellent game performance, free of any kind of crashes. The breaks are among the most annoying moments for gamers, to be honest, at times, it makes you want to smash your mobile with anger. But cool down!
When searching for good emulators, a gamer seldom looks at other features. His primary focus is on gameplay. They search for an emulator that would provide them with a smoother gameplay. It's like a miracle for gamers. Isn't it?
Here's a treat for you. Nox offers you all that you desire.
Whether it is PubG mobile, Call of duty, or Candy Crush, with Nox phone emulator you will enjoy a brilliant game performance. Nox App player strives to make gaming fun for you.
The game you desire will run smoothly on your PC with this particular emulator. You don't have to worry about lags or crashes anymore. Even more, the spectacular graphics it displays will surely be a treat to your eyes.
It has easy and convenient controls, but if that doesn't suit you, you can always customize them according to your preference.
You can also use additional controls such as a mouse, joysticks, or keyboards for you to easily control the game. The best thing is your device won't heat up and no need to worry about the low battery.
The sound effect is also in your favor. You can enjoy gaming without any hurdle with a clearer sound. It's just like you're actually one of the characters in your games.
Furthermore, it is also very stable and easy to install. There are a number of game options for you to choose from.
I am sure you will not be disappointed with this player.
How to Uninstall Nox Player
Although I am pretty sure that you will enjoy the gaming experience with Nox and will for sure be satisfied with its incredible features, however, if you still need to uninstall it you can.
But think twice before you do so, Nox is among the best emulator you will come across. It strives for all the convenience it could provide you with. However, nothing is ever perfect; you can face some sort of problems that don't appeal to you. Or it is possible that you might not want to play games on your PC anymore.
Whatever the case is, you can easily uninstall the Nox Android emulator.
If you have made your Nox account and are wondering how can you delete it. Here's how you can.
Go to settings and head straight to the "Accounts" option.
Click on the Account menu and then at the end, it will show "Remove Account".
Click on to it and boom, it's gone.
After you have deleted your account, it is time for you to uninstall the emulator. Again in a few easy steps, you can complete the process.
Head to the Start menu on your PC or Mac and on your right, it will read "Programs and features."
Click on to the icon "Programs and Features" and search "Nox App Player".
An "Uninstall" option will appear, press the button and wait for it to disappear from your windows.
I'll say again, think twice!
Is it Safe?
Among many issues, the concern for safety and privacy is of extreme importance. Many users ask the question "Is it safe to use" before downloading an emulator and here's good news for you.
Nox Android player is certainly safe for you to use. If you log in from your Google account and Android phone, there is little to no risk involved but always be cautious about cookies and unsafe sites. Avoid signing in from unsafe sites. That might steal your data.
But no need to worry, Nox will definitely provide you with a great experience.
What it Comes Down to: An Amazing Emulator
If you are a dedicated gamer and are tired of annoying headaches from playing on such a small screen of your mobiles, then Nox App Player is here to help you out. With its striking graphics, excellent gameplay, stable performance, and convenient controls, it is among the best choice of emulators for you.
So, hop on for a crazy ride of excellent performance with none other than the fantastic Nox android emulator.
You will not regret it!