There is no doubt that the world is moving too fast, and there is always fierce competition in all aspects of life. While one arm of our technological world is stretching the other one isn't relaxing back, it follows with the same power. Among all the other entertainments of life, gaming is considered the most important and fun activity by youngsters to kill their boredom.
The world of gaming is getting more and more exciting with the introduction of new and thrilling video games every other day. Literally scrolling down your Play Store while resisting the urge to download them all is a task. If you're a gamer, you must know how it feels to not be able to download multiple video games due to lack of space in your Android or iOS.
Indeed playing video games on your mobile phones is fun but it could also get tiring to focus on such a small screen for a long period of time. The headache and strain on your eyes will literally make you wish to be able to play it on a larger screen with greater visuals and graphics.
Consider your wish come true!
There are numerous ways to make it possible for you to play your mobile videos games on your PC without much effort and worry with the help on an Android Emulator. That bundle of joy is none other but the use of a Memu Emulator. While Bluestacks has excelled in this regard, Memu Player is not coming slow either.
Isn't this a dream come true for gamers?
Now you can enjoy all your favorite mobile games on your PC.
Introduction to Microvirt: Creator of Memu
Surrounded by the technological grandeur is a company that began in 2014, however late but ever since it's launch it has been on an epic ride launching ever so intriguing software and platforms that for sure made life easier for many gamers out there.
Memu is another of its great product to deliver exceptional platforms for playing mobile games on PC as effortlessly as possible.
What is Memu Play?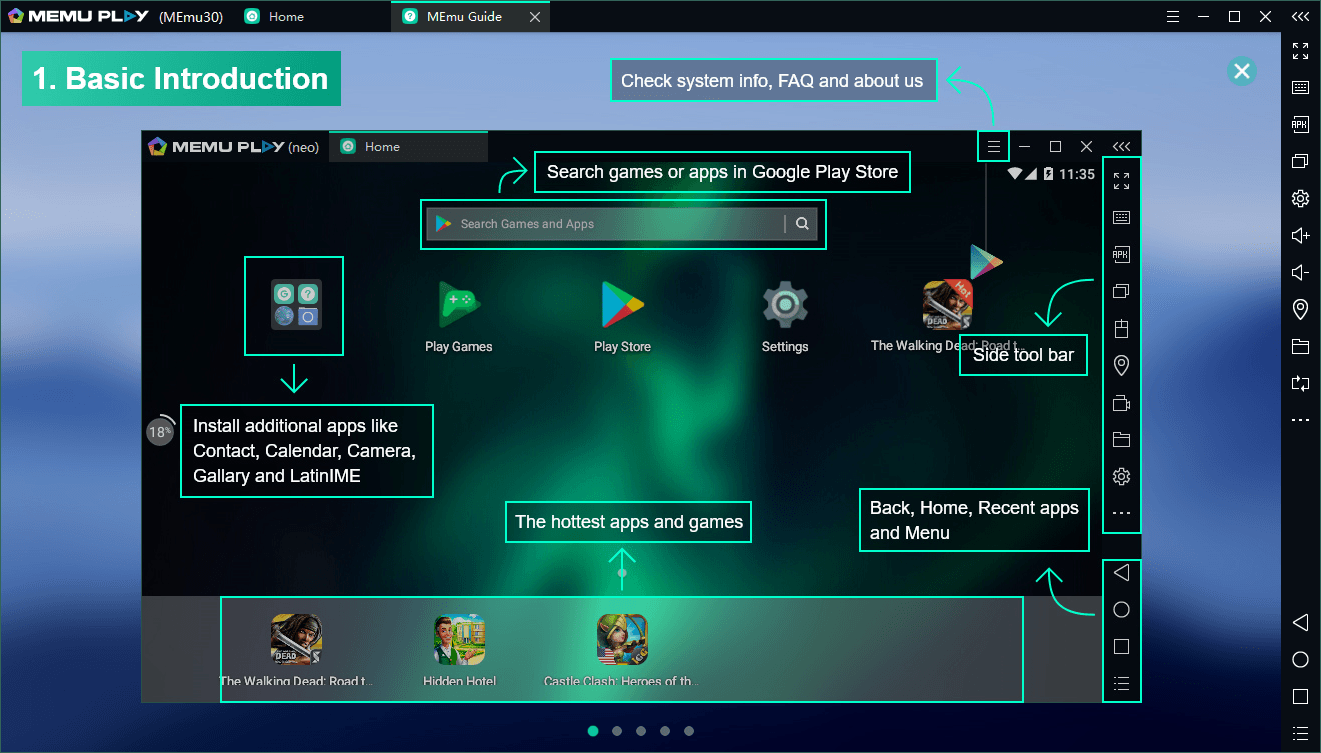 Emulators aren't a unique word in the gaming community. When we talk about Emulators, you will come across various which might make it confusing for you to select a particular one of your choice. It's like a world of wonders, what wonder to choose you never know.
In a basket of very known emulators such as; Bluestacks, Gameloop, and more Memu player stands distinctive among its various features and properties. Addressing the notion to play mobile games on PC there is no better option instead of Memu play.
It holds distinct, fascinating features that allow a user to install, update or play any Android game on your PC without any worry.
So, why a second thought? Take the plunge!
Usually, using an emulator to install a game and play it comes with a serious of complications, but Memu brings good news to you. With it, you don't need to adjust complicated settings or tear your hair out worrying about its complicated controls. All you need to do is install and play. That's fun now.
Secondary to installation, another great challenger faced by games is the complexity of controls, as mentioned above. Good thing, Memu play is looking out for you. It not only provides you comfort while downloading rather is friendly with its control's setting as well.
The magic is already done, its controls are usually already set up very user friendly hence all you got to do is dive into the game. You can use both keyboard and mouse as per your preference. Making it further convenient, it also provides you with an option to modify the controls if you find them challenging as per their initial settings.
A piece of cake, isn't it?
After all the fantastic properties, the third one is like a cherry on top. Memu provides you with a whole separate world of gaming, including catalogues and categories that seem like heaven on earth. We're talking about thousands of games here. Clash of Clans, Call of Duty, PUBG Mobile; you name it, it's there waiting for you to play. Adding a little icing, it's all free.
Go grab it!
Hang on; it's not over yet. There is more to the long list of intriguing features this emulator holds. Here are a few of them:
Stunning Graphics
A game is only fun as long as it's graphics are eye-catching. The more beautiful the graphics are displayed, the more attractive the game looks. Honestly speaking, I myself find those games fascinating that holds strong graphics.
A gamer knows the struggle of 3D graphics on a mobile phone; it eats your storage capacity as well as your battery power. Heavy games like CoD, PUBG mobile, etc demand a lot of space on your mobile and using 3D graphics along can result in game lag and the instant heating of your mobile phones.
To your joy, this great Emulator offers you DirectX 3D effect for you to enjoy incredible graphics and effects on your large screens.
This is quite Exhilarating!
Exceptional Performance
If you're a dedicated gamer, sitting with your mobile in your hand with all your focus on your game definitely expects a great performance. I know how it feels to have your gameplay slow, every second your game lagging makes you feel like throwing your mobile on the wall or pulling your hair out.
Don't disturb the gamers, right? Memu Emulator provides you with an outstanding performance free of the anxiousness of game lag. Now you can enjoy the fastest gameplay without any groans leaving your mouth every other minute.
That's a great deal now!
Simple Controls
Another exceptional advantage this masterpiece presents us with easy and simple controls. Memu play strives to provide maximum convenience to its users and is in every way user friendly. You can use a mouse or a keyboard for controls to play your game effortlessly.
Furthermore, it also allows us to manipulate controls in accordance to our liking. That's how much simple and convenient it is.
Multiple Instances
Wouldn't it be fun to play multiple games on different instances simultaneously? How about I also tell you that you can also log in to multiple accounts for the same game?. That is true. Memu emulator comes up with great features to award you with all the comfort it could give. Now you can enjoy the gaming on your big screen with friends.
Today, there are millions of games that are ruling the gaming world. Memu Play offers catalogs of games. Say goodbye to the boredom. Some popular games it provides are:
PUBG Mobile
Call of Duty
Clash of Clans
Clash Royale
The list is never-ending.
Memu for Mac
While it is still one of the best-used emulators around the world providing a number of facilities to its clients the version of Memu Emulator is still not available for Mac. No need to worry, though, there are certain alternatives and applications you can use instead that offers you the same functions to a very extent.
The following link contains some of the best alternatives to Memu for Mac.
Now you can easily look through your best choice of the emulators for your Mac.
Memu for Windows
As you know, your dream of playing the mobile video games on your PC has already been made come true by one of the best emulators around the world. However, it is never a piece of cake to choose one particular and best emulator that would provide you with comfort along with the ease to play and conduct other tasks.
There are tons of emulators available in the world of technology that would allow you to connect your mobile application to your PC. Speaking honestly, Memu emulator is the best emulator you would come across for this particular purpose. You don't have a very high-speed processing computer or operating systems?
Worry not, unlike other emulators this one doesn't require high-speed processors. Memu emulator is the right choice for you to run your applications smoothly with low-speed computers along with high graphics. If you're a beginner and is struggling with the whole process, you have come to the right place. This emulator is easy to install in your windows and is fun to play on.
Is Memu Safe? Virus & Safety Concerns
No doubt there has been a lot of debate about the emulators in the technological world regarding its features, properties, convenience and safety. The primary concern while installing a new emulator in your PC is whether or not is it safe to use.
No one would want to fall victim to the parasitic virus in your software or PC. Any minor to major inconvenience could result in privacy as well as your security concern. Your computer could also fall victim to these leech-like viruses.
The questions regarding its safety rise in one's mind, and it is critical to know the answers to these security concerning questions. The major questions commonly asked are:
Is Memu safe to use?
Is there any Malware in Memu Android emulator?
Will I get banned in the games for using this emulator?
Can it hack into our accounts and computer?
No doubt, these are all very concerning questions that need to be answered right away, and to your delight, these major concerns have been already looked into. As a group of game lovers, the most important thing for us is game experience, and smooth gameplay and Memu android emulator offers you these both.
Taking it further ahead, Memu has been dedicated to providing its clients with a stable and secure platform to run new and amazing games and applications. Ever since it's birth, it has gained a good reputation of running smoothly and securely on various types of PCs which eases the tension on your shoulder regarding all the security issue.
To ease you, even more, it is verified by anti-virus software companies like avast to eliminate malware, it also provides 100% security to all your accounts and prevents banning your accounts in other games. It is safe to say, it is safe to use.
It is one of the best choices in respect to both convenience and security.
How to Download Memu: The 1-step Process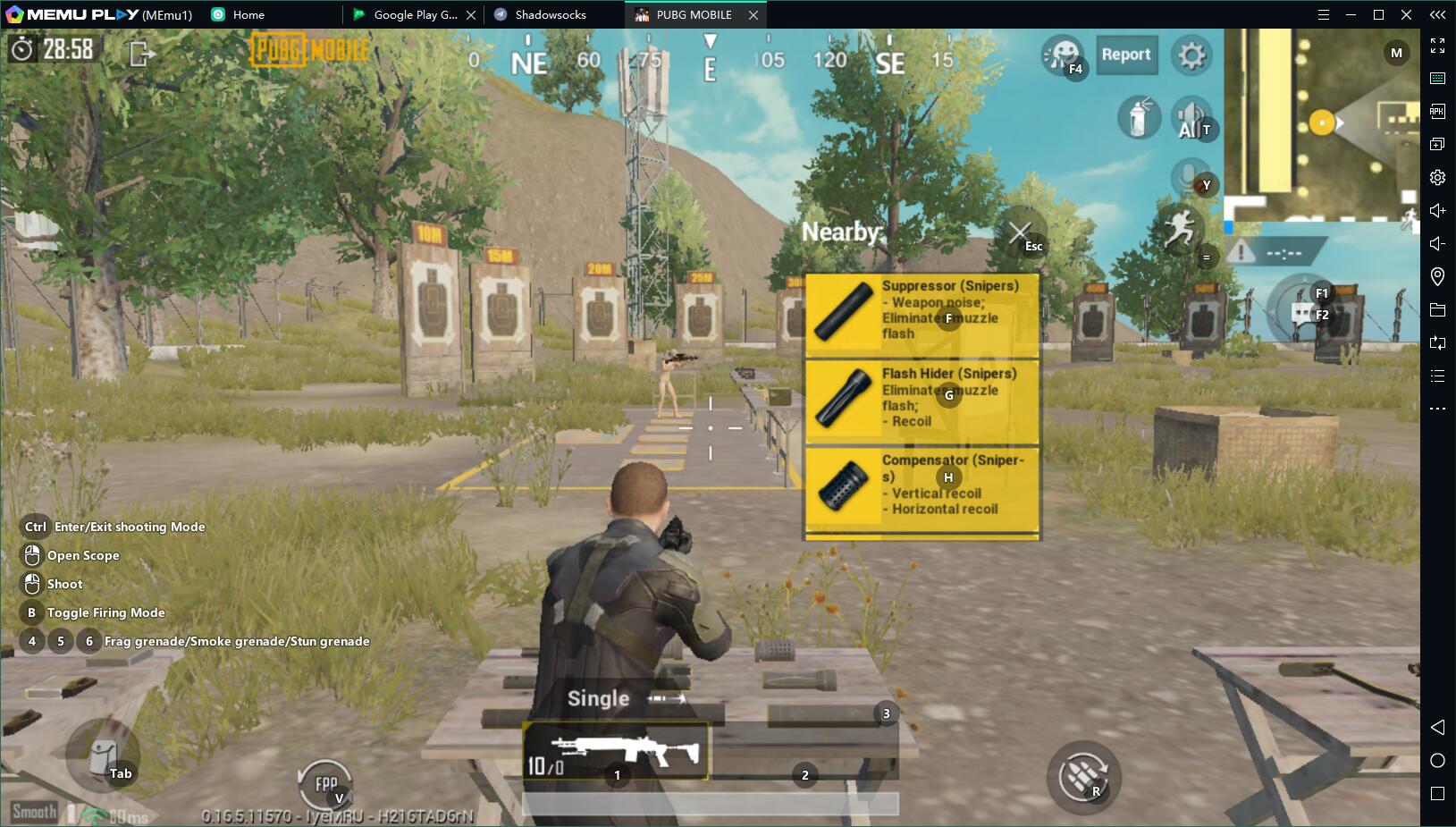 Many users find it difficult to install and run the emulators, somehow the process is very tricky for them. Here's the fun part for you gamers, Memu emulators guides you in every step regarding the process. You don't need to worry about all the complicated steps or never-ending wait.
The process to its installation is quite easy and fast, depending on your internet speed it would take a minute or so and Boom your new wonder world sits right in front of your eyes.
The first thing you need to do is download Memu emulator in your PC.
Memu Android emulators seek every measure to make its usage easy for its users; hence it also presents you with two alternative and rather easy methods to download the emulator fast and quick.
There is no head-scratching or nail-biting anxiety while downloading this software, all you need to do is follow some simple steps to dive into a new experience of gaming. These steps are the following:
After you have successfully downloaded the emulator, you will need to run the setup on PC which is also very easy.
Then you will be asked to choose the language of your preference.
Once the process is done, you will need to add your google account to give access to Google Play Store so you could install the Android applications.
Lastly, click the "no thanks'' button and use the emulator for free.
The Apk Method:
Is it also possible for a mishap to occur with other methods or that you wouldn't wish to provide your Google account? To solve these problems, the Memu play presents you with an alternative method to install it, the apk method.
That's right; there isn't one but two different ways for your ease. Just like the first one, it is also pretty easy with just a few simple steps.
Once it is downloaded, you need to run into bluestacks and give access to the apk button at the bottom side of your windows. Choose the apk link you have downloaded. Accept the terms and conditions and click install. After it is installed, launch it into your PC main menu or desktop and go on with the fun.
How to Use Memu: The Simple tutorial
Now that you have finally made up your mind and downloaded this extraordinary emulator, the next question is how to use it and how to make Memu run smoother? Well, it's not something you need to worry about as it guides you along every step.
As mentioned above, it requires your Google account for you to download the android applications, you need to click on the accounts options in Memu settings and add your google account. After logging into your google account, you will be able to download all the fun games that you have been playing on your mobile.
There is also a Memu app store that provides you with a catalog of games for you to download. Besides all these cherries on top of the cake, it also helps you to dowload apk from other websites such as APKPure.
Now that you've logged in to your account, all you have got to do is the install the application of your choice, or the game you want to play and enjoy gaming with the convenience of its controls.
Sometimes it does happen the more you run the application it starts to lag down, and you wonder how to make the emulator run smooth again?
If you're facing this problem, it means now is the time for you to update and root your emulator. Upgrading Memu emulator to next version is a piece of cake to be very honest, all you need to do is reinstall it. All the latest versions are being posted on their official websites and face groups, and from there you can easily install it.
It is recommended to backup your data on your previous version as to not lose it.
Similar to updating, rooting is also very convenient for the users. There are only a few simple steps that need to be followed for this process, such as:
After you have successfully downloaded the Memu android emulator and logged into your Google account, you can hop into this website and download the Kingroot apk. Be cautious about downloading the Android version of Apk not PC version as the Memu emulator is an Android emulator.
Moving forward, jump into your download folder and install Kingroot by double-clicking the apk file. Almost immediately, a popup from Memu will appear alerting you about the installation of Kingroot.
Once it is installed, you will start Memu, click on to Kingroot and tap the button saying "try to root". The system will then ask certain questions concerning your permission, and after granting it the root process will start. It will take a minute or so, and it is possible that Memu might restart many times during the procedure but worry not, it's all very normal.
If you ever need to copy-paste anything on your Memu emulator, this emulator also guides you regarding this process. Activate your keyboard while pressing the key "f12", click on the place you want to paste and long press( press until the word "paste" appears) and boom, there you go.
Language in Memu Play
Sometimes it happens that the language this emulator displays isn't the language you prefer to run. It also happens that you download the emulator in English while it displays some other language. If that occurs, you need not to uninstall it or worry about it; there's a complete guide for you to change the language effortlessly. In a few simple steps, your task will be done.
Gear up and open the icon named "settings" on the Memu menu.
Click on the subheading "Language and input" and move towards the language portion.
Once you have clicked on the "Language" it will display a complete list of languages you can choose. Scroll down and choose the language you prefer, for example, click English if you understand it.
Go back and enjoy your games.
Multi Memu
What if I tell you that you can now play unequivocal Android games simultaneously? Kind of unbelievable right? But it is true. Multi Memu makes it all true. Memu emulator has two post structures, Memu and Multi-Memu.
If you want to play multiple Android games simultaneously, you will need to shift to Multi-Memu. It will appear as a shortcut along with the original. Double click the shortcut and click on the start button. The system will run to enable the launching of the corresponding window.
Now you can enjoy multiple games on your own and also with your friends.
That's a treat now!
Why is it the Best Choice?
After being aware of all the benefits this emulator holds, the wonders and ease it provides to its user and step to step guideline this question kind of seems absurd. Why is Memu play the best choice?
There are a number of emulators today each giving it's best, but with Memu Android emulator you will never be disappointed. It functions as an emulator that can run all your Android applications smoothly on your PC.
Beyond this minimum requirement, this emulator also strives to deliver consistency on a large scale of computers and systems, giving satisfying results across each. Furthermore, it also provides maximum comfort and multiple features to improve player interactions; the controls are kept simple so that the gamers could rise to their best performances.
Memu play also has the advantage to run millions of mobile games smoothly, along with this Multi Memu aids to make it possible for you to enjoy more than one game simultaneously. It has loads of advantages and high functionality that would, for sure, improve the gamer's enjoyment.
It also beats all its competitors in terms of performance, CPU use, RAM use, and load time. It is also available to a vast range of windows and PCs.
Try it yourself if you cannot believe it; the data never lies.
The Crux
Hence, if you are a real gamer and are looking for good Android emulators to run your games fast and smooth then no doubt the Memu Android emulator is the best choice among providing you with maximum benefit and as much convenience it could for its users.
So, no more playing games in your small screens of mobile only to be left with throbbing headaches. You can now enjoy it on your big screens with extraordinary graphics with Memu Play.
Go for it gamers, you will not regret it.